Dinner and Speakers Presentation - First Annual PSO Student Moot Competition
Come and join us for the Dinner and Speaker Presentation portion of the 1ST Annual Paralegal Society of Ontario Mooting Competition on November 23rd, 2013 starting at 6pm. Tickets are available for only $30 per person.
Dinner will include barbecued beef, chicken or vegetable kebabs, fresh vegetables & dip, greek pasta salad, tomato & cucumber with basil vinaigrette, corn on the cob, tzatziki sauce, fresh pita bread, fresh fruit platter, lemonade or iced tea.
Speakers will be:
1. Marian Lippa is a paralegal and will be speaking about her recent advocacy of the Paralegal profession before the Superior Court of Justice;
2. Laura Alescio is a professor at law at Humber College and a paralegal who will be speaking about the Department of Justice;
3. Michelle Haigh is a licensed paralegal, member of the board for Legal Aid Ontario, and member of the Paralegal Standing Committee. Michelle will be speaking about Legal Aid Ontario;
4. Cathy Corsetti is also a paralegal and chair of the Paralegal Standing Committee. Cathy will be speaking about the Law Society of Upper Canada.
Visit the following link for further information about the Moot: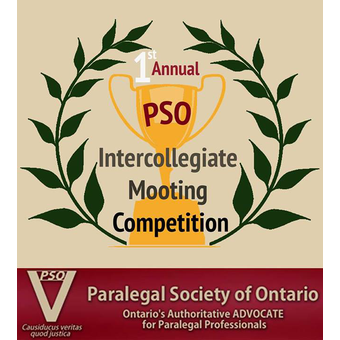 Humber College Lakeshore Campus at 3199 Lakeshore Blvd. West