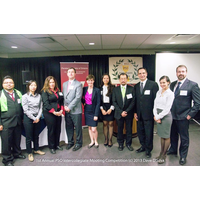 The Paralegal Society of Ontario, (PSO), in conjunction with Humber College's business school was very proud to present the first ever paralegals own mooting competition. We were pleased to recognize student oral advocacy, writing advocacy and professionalism from a variety of GTA based colleges. The PSO is proud of our student achievements our impressive mentorship extended by our members and paralegal professional community. The event was a great success!
We greatly look forward to this years event that will be hosted at Humber College on November 1st and 2nd 2014. We hope to see you all in attendance.
Thank you to the coaches and colleges facility for their participation.
The PSO would like to thank the following for their contributions to making this event a success:
Fallon Burns - Student Director - Chief Bailiff
Karen Fair - Co-Organizer - Scoring
Doug Taylor - Co-Organizer - Logistics
Jeff Aikman - Co-Organizer
Alex Aguilera -Co-Oranizer

Carolina Longo - Scorer
Sara Liden - Administrator
Michelle Pearce - Administrator
Kashanna Milton - Administrator
Ashley Shimski - Administrator

Tara Lisowski- Head Time Keeper
Eimy Rodriguez - Time Keeper
Ashley James - Time Keeper
Alex Aguilera - Time Keeper
Kristia Medeiros - Time Keeper
Enkhmaa Sandagdorj - Time Keeper

James Cullin - Associate Dean of Business at Humber College
Kevin Stolz - Reception Pianist
Our brilliant guest speakers:

1) Marian Lippa
2) Mara Clarke
3) Michelle Haigh
4) Cathy Corsetti

Our generous sponsors:


Humber College
Humber College The Business School
PREP Network
James Moak - Cornwall Paralegal

Final Judging Panel:

James Moak - Chief Justice
Michael Benoit
Nancy Miller
Samantha Glass
Joe Kippax

1st Place: Canadian Business College
2nd Place: Centennial College
3rd Place: Centennial College
4th Place: Seneca College

For More Information Please Consult the following links:

---